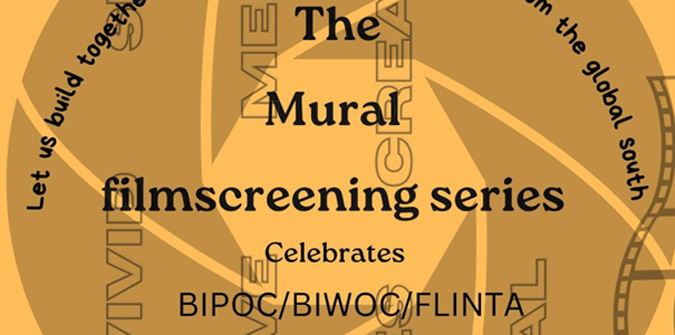 17.03. um 19:00 Mural
FLINTA*/BIWOC/BIPOC film screenings


filmmakers - more specifically artists with a migration or refugee background - platforming films made with skill and imagination despite the difficulties these artists face accessing resources, spaces and funding. "We showcase a wide variety of genres and visual experiments in order to build an alternative space through which to present our voices to the world. With fragments assembled from collective memory, we enrich our visual imagination and in doing so create our own mural." Najwa Ahmed

From eco-consciousness to spirituality, artificial and other-than-human intelligence to love and loneliness, this Mural screening programme brings together short films made by FLINTA/BIWOC/BIPOC filmmakers, diverse visions that together make up a picture of the Global South.(NA)

1- As I search for you in my memories, what will I find? Talal Alaa, Egypt 2022, 14 minutes A fictional story, yet one that depicts what many people consider a reality, especially in the last two years during the Covid pandemic outbreak, a time of so much pain and loss. It's a reminder for us to enjoy the company of loved ones before it's too late, and a farewell to those who were lost.

2- Monomorium Pharaonis, Nils Woitschach & Amir Naghavi, Germany 2022, 3 minutes A portrait of Monomorium Pharaonis, an ant notorious for being unstoppable that feasts on almost everything that stands in its way, that here becomes a symbol of relentless pain and trauma.

3- Family Portrait, Thais Nepomuceno, Brazil 2022, 18 minutes A mini documentary which captures stories from the youth of the filmmaker's aunts. Unveiling their struggles during times of poverty and a tenderness as they recollect stories about the spiritual healer Elidio Souza Faria. The film is a storytelling to not forget those who built the filmmaker's childhood home.

4- Planet Blue, Noe, Germany 2021, 7 minutes A tale about reincarnation, destruction, and recovery. A cosmic presentation to a parallel dystopia.

5- My body and me, Hossam Jlilaty, Syria 2021, 3 minutes Silence and an idea in the imagination of a Syrian young man who decides to fight his loneliness and isolation through drawing a diagram of his life and perhaps also his death!

6- Mother Nature, Maisha Maene, Congo 2020, 8 minutes Disgusted with the already deplorable behaviour of the human being towards his natural environment, NURU, a young woman with an overflowing imagination, decides to paint herself with motor oil which she uses as a metaphor to pass a message of eco-consciousness to the next generation.

InterFem Collective e.V. is a Berlin-based self-organised migrant intersectional feminist organisation that aims to empower migrant, refugee, BIPoC and queer FLINTA* folks by combining artistic expression and activism.

We warmly invite you to join us at 19:00 with free entry.