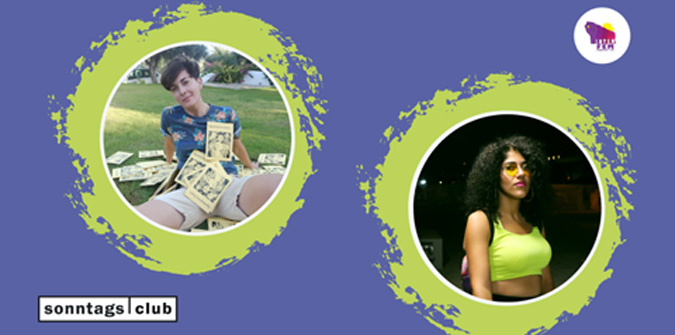 18.02. um 18.30 – InterFem Talks
queer feminist writing and spoken word


InterFem Collective e.V. happily presents a discussion on queer feminist writing and spoken word. Our guests, Marachi (they/them) and Sara Ath (she/her) will share their unique perspectives on the creative process of writing.
Join us for an evening of discussion, followed by Q&A and a party with live Hip Hop!

In English spoken language, with possibility to ask questions in German.

Free admission, donations are highly appreciated.

InterFem Collective e.V. is a Berlin-based self-organised migrant intersectional feminist organisation that aims to empower migrant, refugee, BIPoC and queer FLINTA* folks by combining artistic expression and activism. Our activism is decolonial and is performed through theatre, filmmaking, choreography, writing and visual arts. Our activities are from and for FLINTA* artists and people, who want to explore themselves through art.

Marachi was born a tomboy in Heraklion, Crete almost 40 years ago. The issues of gender, sexuality and social justice were always critical for them. As a kid Marachi tried to survive the patriarchy by being an athlete and by researching everything LGBTQI related before the existence of the internet. The immigration to Athens, the capital of Greece and the leftwing movement was the only thing that made sense at the time in order to escape and survive. This journey among cities, loves, political groups and identities was documented in a blog of poetry, and was recently published in the collection "erogenous zones" from the independent queer publishing label "mpataria" by the queer, non-binary performer, editor and publisher Mochi Georgiou. Marachi works as a teacher in a public school in Berlin, being responsible for sexual diversity, and performs in drag (or not) for political causes.

Sara ATH is a queer feminist rapper based in Berlin. She was born and grew up in Athens. However, she has also lived in Cairo, where she is also coming from. She has been active in anarchist/anti-authoritarian movements since 2008 and some years later decided to communicate her thoughts, experiences, and ideas for a better world through music. In 2017 she released her first album, titled 'Αντι-Σύλληψη' (Anti-Syllipsi). 2022 she published her new album "Amazons of the Concrete". In a male-dominated scene like Hip Hop, Sara decided to become the voice of many femininities, queers and people who resist the 'macho male' culture that dominates and is reproduced in many hip hop songs. At the same time, she aims to use her music as a tool in the struggle against patriarchy, to support self-organisation and collective existence as they are manifested in squares, autonomous spaces and occupations, in opposition to the prevalent logic of the commercialisation of music.